ANTI-COMMUNIST ARMED UNDERGROUND IN POLAND AFTER 1944 - AN INTRODUCTION
"We also ought to remember all of those murdered at the hands of the Polish institutions and organs of the state security who still remain at the service of the system brought from the East. We ought to remind about them, at least before God and history." POPE JOHN PAUL II
"Never let the dead perish from our memory." ZBIGNIEW HERBERT
"Without the sacrifice of their lives of them and several thousands of those like them, how much more shameful would the post-war history of Poland have been?" H. PAJAK
In the Photo: Concentration of the 5TH Wilno Brigade - Foresters Lounge in Poswetne. Major Zygmund Szendzielarz "Lupaszka" (standing in the center); Second Lieutenant Wladyslaw Lukasiuk "Mlot"(standing immediately to the right); (standing first on the right) Second Lieutenant Romuald Rajs "Bury"; Lieutenant Marian Plucinski "Mscislaw" (kneeling on the right).
[...] We are by no means a gang of bandits, as we are called by the traitors and villainous sons of our motherland. We are men of Polish cities and villages. [...] We want for Poland to be governed by the Poles who are faithful to her, and chosen by the entire nation; for there are among us those who can't speak, out of fear of UB and the clique of the Soviet officers who are on the lookout. Therefore, we declared a fight to the death against those who - in return for money, decorations, or appointments from Soviet hands - are slaughtering the best of Poles, who demand freedom and justice. Major "Lupaszka"
Excerpt from the leaflet from March 1946 authored by Major Zygmut Szendzielarz "Lupaszka"
The entrance of the Red Army on Polish territory in January 1944 brought neither freedom nor peace. After the initial period of collaboration with the detachments of the Home Army (AK pol. Armia Krajowa), the NKVD began to arrest officers while the regular AK soldiers were being forcibly conscripted into the Berling's Army. In order to pulverize the impetuous of the society, the extermination of intelligentsia went into a full swing. Despite that, the resistance movement, even though weakened, remained faithfully guarding of Poland's sovereignty. Right from the outset of this Soviet domination the resistance undertook a form of an Armed Anticommunist Insurrection which lasted until the end of 1940's - and in certain regions of Poland even longer.
Fifty years have passed since then, yet the full account of those events is incomplete at best. As a by-product of communist propaganda, the common perception of those events is subject to stereotypes even to this day. It is to be attributed to pseudo-historians of the "people's" Poland who for 45 years referred to this period in Poland's history as the "period of armed struggle to strengthen the people's power". The falsified picture of history of 40's and 50's created by them inevitably found its way into schoolbooks, encyclopedias, and even incidental newspaper articles. This precedent remained in place until the end of the existence of the "Socialist Poland".
For example, on June 6, 1986 the "Contemporary Gazette" (pol. Gazeta Wspolczesna) nr. 131/20822 ran an article by certain Stanislaw Fedorowicz entitled "A Meeting With Executioner" (pol. Spotkanie z Katem). The Second Lieutenant Stanislaw Marchewka "Ryba" (English - "Fish"), an officer in the Home Army (pol. Armia Krajowa) and WiN (pol. Wolnosc i Niezawislosc - Freedom And Independence ), is described as follows:
"One day in the Fall of 1955, to the cell in which Kazimerz served his sentence, a tall brunet of menacing appearance was lead. He didn't greet other prisoners. He sat down on a stool and grumbled: Fuck, I'm going to get it, I am going to get a tie. " (prisoners used the word "tie" to refer to death by hanging). I didn't kill enough of those sons of bitches. But did I live, did I live. I was never short on money and women."
- Anyone's got a smoke? [...] I have to smoke this shit. Before we've had Camels and Lucky Strikes. I am a Captain [in the Polish Armed Underground] and now I am locked up with common riff-raff. [...]
- I had a married woman - he said. - A beautiful chick. Beautiful fluffy hair all the way down to her ass. Her husband worked in Szczecin. In the beginning she didn't want to put out. So, I gave her two rings and ten thousand Dollars; still she wouldn't put out. So, I stuck a piece [translator's note - a handgun] to her head. And she did. [...] P.S. In 1956 Military Court sentenced "Ryba" to death by hanging. The sentence was carried out."
In reality, Second Lieutenant Stanislaw Marchewka "Fish" died on March 3, 1957 in the Bialystok region in a skirmish with a tactical unit of UB (pl. Urzad Bezpieczenstwa). He was never arrested by the UB. Read more about Stanislaw Marchewka, nom de guerre "Ryba" here...
It was not only disinformation that was at stake here - for the propaganda machine of the People's Republic of Poland (pl. PRL - Polska Rzeczpospolita Ludowa ) went to great lengths to make the participants in the armed resistance movement look morally reprehensible by attributing to them every conceivable crime. It was a methodical, long-term policy. An upper ranking functionary of UB Major Wiktor Herer said to one of the prisoners during an investigation in 1958: [...] our aim is to not only to destroy you physically, but also to destroy and degrade you morally in the eyes of society". (Czeslaw Leopold, Krzysztof Lechnicki "Political Prisoners In Poland 1945-1956" (pl. "Wiezniowie Politczni w Polsce 1945-1956") Young Poland (pl. Mloda Polska) Publishing, Warsaw 1981, p. 8.
The physical extermination of the anticommunist underground soldiers was not nearly sufficient for them. The Communists knew very well that the sacrifice of young underground soldiers may in the future reach mythical status, and the new generation of Poles might draw their strenght from it to fight them. It is for this reason that the murdered and slaughtered underground soldiers were buried in complete secrecy in cloacal holes, and refuse dumps ..., so that not even a cross marks their gravesites. Subsequently, the communist used all available propaganda tricks at their disposal to discourage and morally annihilate all of those who decided to fight against them with arms. Also see: Communist Agent Provocateur Operations In Poland, Active Measures and Propaganda Operations in Shaping the Negative Image of Poland's Post-World War II Armed Resistance.
A particularly important role in this undertaking was played by "writers" alligned with the communist regime. During the entire period of "people's" Poland, books were published in which soldiers of the anticommunist armed underground were depicted as common thiefs, derelicts, and degenerates who murdered innocent women and children. If we were to add together all copies of such books that were published, their number would easily go into millions. The so-called men and women of the Polish "big screen" didn't tag far behind the "writers". Several such producers should to be mentioned here: Jerzy Kawalerowicz with his "acclaimed" movie "Shadow" (pol. "Cien"), Czeslaw and Ewa Patelski who in their movie "Sergeant Major Kalen" (pol. "Ognimistrz Kalen") depicted Major "Zubryd" as a common gangster, or Kazimierz Kutz with his "masterpiece," "From Nowhere To Nowhere" (pol. "Z nikad do nikad"). The "From Nowhere To Nowhere" was produced already in 1970's. A culminating moment in this movie is revealing, as it portrayals drunken soldiers of the armed underground who are being observed with disdain by members of an international commission, who were incidentally, snatched earlier as hostages. While observing the drunk and behaving like animals partisans the "English-speaking" member of the commission addresses another commission's member - who is wearing Soviet uniform - with the following question:
- Why don't you just round them up? The sophisticated looking Soviet member of the commission responds in fluent English with surprise in his voice:
- How? This is a free country. This is none of our business.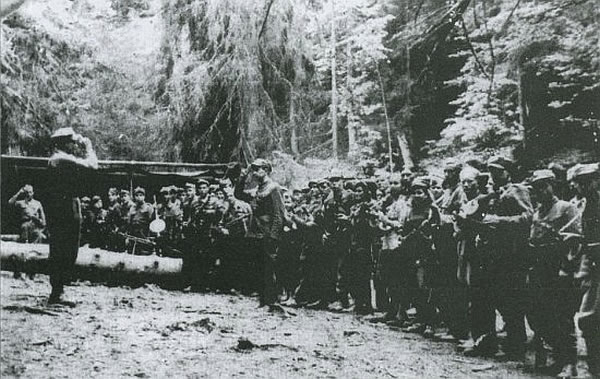 Assembly at the Headquarters Security Detachment "Lighting" (pl. "Blyskawica") of Major Jozef Kuras "Ogien" (tr. "Fire"). In the photo Major Kuras receiving report. Summer, 1946.
To this it is also necessary to add not only a large number of newspaper articles - including those appearning in the daily newspapers written mostly by former functionaries of UB - but also those more subtle "art-forms" such as poetry and even fine arts. Their goal was to solidify the "people's power" in the common consciousness of the populous - it was necessary to create new morality in which good was to become evil.
Above: Correspondence marked "Secret" between Head of the Department "C" of the Ministry of the Internal Affairs and 2nd in charge of the Krakow's Office for State Security (SB - pol. Sluzba Bezpieczenstwa which superceded UB - Urzad Bezpieczenstwa), Colonel Stanislaw Walach. Translation of the orignal document in the Polish language:
"Krakow, April 7, 1965. Secret. Copy Nr. 2. To the Director of Department "C", Ministry of Internal Affairs, Warsaw. I am herewith attaching /as requested/ original documents and photos of "Ogien's" [Major Jozef Kuras's] gang - selected by the representative of the Polish Television (TVP), editor Bratkowski.
I kindly request that you make photocopies of these documents and make them available for use by the TV[P]. Please return originals to us.
At the same time, please discern whether it is prudent to use group photo of "Ogien's" gang /marked Nr. 7, poz. 11/, which because of the nature of the uniforms worn by the gangsters, looks more like a real partisan's unit rather than a terrorist gang. Deputy Commandant of M.O. Krakow Province / for State Security, (Illegible Signature), St. Walach, Colonel. Issued 2 copies GS/WP, Copy Nr. 1 Recipient, Copy Nr. 2, 2a/2a." Original Document Source: The Institute of National Remembrance - IPN
Neither our parents, nor ourselves as students in the Polish schools could avoid being bombarded by this falsified version of "history". For there were no gatherings with the soldiers of the armed underground to be allowed. In their place were lead pseudo-combatants from ZboWiD. They represented the UB (pol. Urzad Bezpieczenstwa), Main Directorate of Information of the Polish Army (pol. Informacja Wojskowa), KBW, (pol. Korpus Bezpieczenstwa Publicznego - Internal Security Corps), People's Militia, (pol. Milicja Obywatelska - People's Militia), or ORMO (pol. Ochotnicza Rezerwa Milicji Obywatelskiej - Voluntary Reserves of the People's Militia). The veterans of the armed underground (a handful of those who survived) vegetated on a periphery of the society. We must note here that unfortunately, the communist propaganda was aided by few members of the "democratic opposition" and alligned with them historians who were unwilling to breach beyond the officially sanctioned "truth". In their books the anticommunist underground resistance movement continued to be referred to as "Gangs" (pol. Bandy). Some of these featured false and slanderous statements which are not much different from those present in books by authors of the UB provenance. For example, Krystyna Kersten in her book "The birth of the system of government. Poland 1943-1948", KRNG Publishers, Warsaw 1985, p. 8 (pol. Narodziny Systemu Wladzy. Polska 1943-1948) released outside of the official controlled and censored by the state publications - and therefore viewed as more credible than the officially sanctioned publications - conducts a valuation of morality of the anticommunist underground by comparing them to the slaughterers from UB:
"I am of opinion that the specificity of situation at the turning-point between war and peace in Poland lies exactly in this, that all arguments became relative. It is not tantamount with exonerating slaughterers from the UB (pol. Urzad Bezpieczenstwa - Polish Secret Police) or members of the NSZ (pol. Narodowe Sily Zbrojne - National Armed Forces) murdering innocent Jews and "reds" […]"
She is accompanied by Maria Tulejska (Lukasz Socha) who in her well-known book "These Generations Mourning In Black … Those Sentenced To Death And Their Judges 1944-1956" (pol. "Te pokolenia zalobami czarne … Skazani na smierc i ich sedziowie") published by Aneks, London 1989, on page 66 states, that the organized anti-communist underground never existed. She continues asserting that since no nation-wide fighting armed organization existed in Poland, the government didn't even attempt to demystify it. It was and still is asserted to this day that there were dozens or even thousands of gangs in existence. Mentioned the most are such acronyms as AK, NSZ, ROAK, KWP; code names of underground leaders such as Orlik, Bury, Ogien, Warszyc, Dziki, Blysk, Grozny, Otto, Tarzan, Lupaszka, Zapora, Huzar, Wedrowiec, Mewa, Szary […]. We didn't know then that this was a shameful continuation of propaganda efforts of Polish People's Republic (pol. PRL), nor did we know that Maria Turlejska is an Agent of MBP (pol. Ministerstwo Bezpieczenstwa Publicznego - Ministry of Internal Affairs) code name "Ksenia". We didn't know that this disgraceful policy will be supported by the III Polish Republic. Turlejska was recruited by the Polish secret police in 1950 as a TW (pol. abr. Tajny Wspolpracownik - Secret Collaborator). The Institute of National Remembrance (IPN) is in possession of nearly 100 secret reports provided by Turlejska to her handlers from Polish secret police. More about Maria Turlejska on Wiki (in Polish)
On July 15, 1946, in his report to the United States Department of State, concerning the Kielce Pogrom, the US Ambassador to Poland, Arthur Bliss Lane, wrote:
"860C.00/7-1546:Telegram / SECRET / Warsaw, July 15, 1946- 4 p.m./ Received July 16 - 4:15 p.m. / The Ambassador in Poland (Lane) to the Secretary of State/
1085. For the Secretary. From what prominent members of [Polish communist] Government, including [Jakub] Berman and Jewish elements tell us, there was a direct connection between Kielce pogrom and result of referendum. The Government indicates reactionary elements provoked pogrom to indicate dissatisfaction with their defeat. Majority of Diplomatic Corps and other impartial advisers, however, express view privately that falsification of referendum [elections] result was a direct reason for outbreak.
While I admit that the referendum result may have been the spark responsible for the Kielce explosion, the underlying cause is, in our opinion, shared by the Jewish community and by responsible American citizens of the Jewish race who are now in Poland, the growing anti-Semitism during the past few months. According to our best Jewish sources, the Jewish people in Poland have little regard for the present Government and resent the implication that the Jews in the Government represent the Jewish people. On the other hand, one of the principal reasons for the increasing hostility towards the Jews, which is evidenced by many acts of violence, including assassinations by anti-Government armed groups, is the estimated opposition of 80 to 90% of the Polish people against the [communist] Government and especially against the small, but controlling group, composed of Jews who have received their indoctrination in the Soviet Union and who are believed responsible for the repressive measures of the Security Police, the lack of freedom of the press and the present lack of independence of the nation (this group includes [Jakub] Berman, [Hilary] Minc, Modzelewski, Olszewski, [Stanislaw] Radkiewicz, and Gen. [Marian] Spychalski).
Embassy observers are unanimous in believing that [the Polish communist] militia played an important part in Kielce pogrom and members of Government, including Ambassador Lange [Polish communist government Ambassador to the United States], have so admitted to me. Antipathy of [the communist] militia towards Jews probably inflamed by elements within militia and army who resent activities of Security Police and KBW ( Korpus Bezpieczenstwa Wewnetrznego - internal security corps headed by Russian General Kiziewicz). Both UB and KBW composed of many Jews of Russian origin.
Government and anti-Government sources inform us and concur (despite some local evidence to the contrary from Kielce) that pogrom was deliberately planned [by the communists]. [The communist] Government accuses 'reactionary elements' and logically cites dissatisfaction with results of referendum. [...] we cannot understand what anti-Government forces could gain by anti-Jewish excesses. In fact, I believe from reliable sources that anti-Government elements have compelled their sympathizers to avoid violence at all cost.
On the other hand, we have evidence that [the communist] Government was aware as early as end of May that disturbance would take place in Kielce. The fact that pogrom was handled by the woyewode Security Police [WUBP - Voivodhship Office for Public Security] and the [communist] militia in such an unbelievably inefficient manner, leads one to wonder whether elements in [the communist Polish] Government may not have secretly welcomed the opportunity to be able, both within the country and without, to denounce 'reactionary elements', including Mikolajczyk, the Catholic Church and others dissatisfied with Government program. There have been too many cases which have [come] to the Embassy's attention indicating complete disregard of [the communist] Government for human life and for human liberties to eliminate possibility of governmental connivance merely for humanitarian reasons. From treatment which Polish Jews complained to have received in Soviet Union, Soviet Government, which controls minority group in Polish Government, would likewise not appear squeamish in inflicting cruelties on Jews.
From conversations with Jews, I am convinced that exodus of Jews from Poland will increase until few, if any, are left in country and that they will, through preference, proceed without legal entry documents into American zone of occupation. Dept will appreciate therefore not only increased physical difficulties which this will create for USFET, as well our immigration authorities, but also international implications which may result because of possible emigration of unknown quantity of Jews to Palestine.
I regret that it is not possible more definitely to express an opinion as to the elements responsible for Kielce pogrom but it is believed that Dept will be able to infer possibilities from foregoing.
My comments on result of referendum [elections falsified by the communists] will follow shortly.
Sent Dept as 1085, repeated to USPolAd Berlin as 17 and to Moscow as 121.
Lane"
Incidentally, we have to emphasize, that while none of the Polish Security functionaries , communist government officials, and/or their Soviet "advisors" having complicity in orchestrating this event were ever convicted for instigating, directing, and carrying out the pogrom, from that point on, this incident will be used by the communist propaganda machine to portray the democratic underground as Anti-Semitic. While it is outside the scope of this introduction, we also ought to remind, that a mas exodus of Jews from all concquered by the communits Central and East European countries that followed, effectively ended British control of the Palestine.
In response to a tantalizing question posted during an interview with the post(?)-communist "Standard of the Young" (pol. "Sztandar Mlodych"), if in free Poland members of the Wehrmacht, UPA, and NSZ (pol. Narodowe Sily Zbrojne - National Armed Forces) will be entitled to combatant privileges, Jacke Merkel, a minister in the Chancellery of President of the Republic of Poland responded: "No. Where is this question coming from? Service in the foreign army is not taken under consideration". Of course the NSZ (pol. Narodowe Sily Zbrojne - The National Armed Foces) were among the most distinguished Polish underground organizations that fought both the German as well as the communist occupiers. It is beyond reason, common sense, and it is unconscionable, that the name NSZ would be used in the same context as Whermacht, and UPA. In his book "Faith and Guilt. To And From Communism" (pol. "Wiara i Wina. Do i Od Komunizmu"), Jacek Kuron, a former KOR activits, politician in the "Freedom Union" (pl. "Unia Wolnosci"), and a well known member of the democratic opposition, described Jozef Kuras "Ogien", as follows:
"Jozef Kuras 'Ogien' – the legendary leader of the Podhale, first belonged to the AK, then he created his own gang. Because he opposed AK, after war he became chief of the Public Security in Nowy Targ. After that, along with the entire staff of State Security (pl. Urzad Bezpieczenstwa) office [in Nowy Targ], he went to the forest, and unbelievably long terrorized Podhale. See, every once in a while, he would like a new girl, so he'd marry her. Either he married her in the church, or under the barrel of a gun, or by forcing priests to conduct marriage ceremonies, or even without church, but is not really important. What is important, is that his weddings were out of this world. At the same time he would 'clip' the reds and the Jews. Such wedding exactly, took place in Rabka. First, "Ogien" served booze to everyone, than he let the booze flow into the gutters, then he set the brewery on fire, and with the fire raging in the background, his huge sleigh raid party, would race with this newly wed wife".

(Niezalezna Oficyna Wydawnicza, Warsaw 1990, page. 247).
Major Jozef Kuras "Ogien" neither kidnaped women, nor did he force them to marry him. Jozef Kuras "Ogien" had two wives: his first wife burned alive along with his 2 ½ year old son, and his 71-year old father in the house set ablaze by the Nazis in June 1943; his second, wife Czeslawa (born Polanczyk) was a currier in his partisan unit. She was arrested by the UB (pol. Urzad Bezpieczenstwa), and was freed by "Ogien's" soldiers from the county PUBP office in Nowy Targ in April, 1945. Shortly thereafter, they married at the church in Ostrowsk. After the death of her husband, she was for years harassed by the Polish secret police, the UB. Czeslawa Kuras lives in Poland with her son. The "book" written by Kuron was undoubtedly read by thousands of people. Despite the passage of time, the methods used to slander soldiers of the anticommunist underground in Poland have not changed very much. Neither had changed Jacek Kuron. In his book, co-authored with Jacek Zakowski, entitled "PRL for beginners" (pol. "PRL dla poczatkujacych", Wydawnictwo Dolnoslaskie, Wroclaw, 1998, page 13), this time, he graciously offered a much "wider in scope", and more "enlightened" analysis of the entire anticommunist underground in Poland, he wrote:
"[in 1945] the partisan units were way to fragmented, and weakened, to attack i.e., even a military stores. They were frightened that they will be discovered and destroyed by the Soviets. So, they rubbed farmers. And so began the process of transformation of partisan activities into common banditism. From the moment the AK was dissolved, it was more, and more difficult, to distinguish between an underground unit and a gang of thieves."
Photo above: 1945 - Command Staff of the V Vilno Brigade of the Home Army (pol. Armia Krajowa). Standing from left: 2nd Lt. Henryk Wieliczko "Lufa" murdered on March 14, 1949 in the Lublin Castle, Lt. Marian Plucinski "Mscislaw", murdered on June 28, 1946 in the Jail in Bialystok area, Major Zygmunt Szendzielarz "Lupaszka", murdered on February 8, 1951 in the Mokotow prison, Sergeant (pl. wachmistrz) Jerzy Lejkowski "Szpagat", 2nd Lt. Sdzislaw Badocha "Zelazny", died in combat with UB on June 26, 1946 near Sztum.

It is obvious, that this appaling situation will not change any time soon. The surreal legacy of the Round Table, left no place for those who in defense of sovereignty, religion, and true democracy in Poland, paid the ultimate price. Since the sole desire of the "neo-communists", and the legions of the so called "newborn-democrats" in Poland is to legalize their own participation in the democratic process of the IIIrd Polish Republic, it is, and it will be in their interest, to devalue, and to pervert the legacy of the Doomed Soldiers.

"What constitutes the Soviet method against the conquered nation? This method can be compared to a surgery, that relies on the removal of the patient's brain and of his patriotic heart. But we know, that the first condition [for such surgery to be successful] is that the patient has to lay still […]
In this respect, not only doesn't the Bolshevik surgery differ from a normal surgical procedure, but rather, more so than other procedures, it relies on a wise, and methodically carried out steps. The condition for its success, is exactly this horrific, silent, petrified, and psychologically terrorized passivity of the society. It is its [society's] stillness. It is its [society's] physical capitulation. The society that fires shots, will never be bolshevisized. The bolshevization will reign only, when the last soldiers emerge from hiding, and when they dutifully stand in the food lines. It is exactly now, that in Poland, the sounds of the last shots fired by the real Poles, whom no one in the world wants to call heroes, are being extinguished …" Excerpt from the London's "News" (pol. "Wiadomosci"), by Jozef Mackiewicz, 1947.
| | | |
| --- | --- | --- |
| Photo above: Maj 1945. Soldiers from the PAS NSZ (Pogotowie Akcji Specjalnej Narodowych Sil Zbrojnych - Special Emergency Unit of the National Armed Forces) unit of the Lublin District under command of Major Mieczyslaw Pazderski "Szary". Mjr. Pazderski is sitting in the middle, above a soldier holding an MP-40 machine gun. | | Enigmatically, in order to distort the true nature of the fact that 1944 meant in essence an enslavement of Poland, and the beginning of the Soviet occupation, today these events are being described as a "Civil War". Nothing could be further from the truth. To those who either don't understand, or refuse to understand the nature of the tragedy that began to unfold in 1944, we will remind the words spoken by the First Secretary of the Central Committee of the Polish Communist Party (PPR), Wladyslaw Gomulka. During the secret proceedings of the leadership of the PPR (pol. plenum) which took place on the 20th, and 21 May, 1945, Gomulka stated unequivocally: "We are unable to fight against the reactionary underground alone [and] without the Red Army [...] The demand to have the [Soviet] army leave would not be prudent. |
We would not have enough of our own forces to deploy in the place of the Red Army". The Deputy Commandant of the MO (pl. Milicja Obywatelska - People's Militia) seconded: "It is not us who are the hosts here. Working here are Soviet detachments [...] After 1944, the communist government in Poland was never sovereign".
Some years later, the Report No. 2502, prepared by the United States House, 82nd Congress will read: "It is undoubtedly true that hindsight is much easier to follow than foresight, but it is equally true that much of the material which this committee unearthed was or could have been available to those responsible for our foreign policy as early as 1942. And, it is equally true that even before 1942 the Kremlin rulers gave much evidence of a menace of Soviet imperialism paving the way for world conquest.Through the disastrous failure to recognize the danger signs which then existed and in following a policy of satisfying the Kremlin leaders, our Government unwittingly strengthened their hand and contributed to a situation which has grown to be a menace to the United States and the entire free world".
The fight for the sovereignty of the Republic of Poland, didn't end with dislodging German occupiers from Poland, nor did it end with the Allied Victory in the II World War. In hopeless conditions, and doomed by the indifference of the entire world, the soldiers of the Democratic Underground fought with the second occupier, and its collaborators well into the 1950's. They fought with the communists in defense of freedom, sovereignty, and the Democratic tradition.
For Poland, the II World War was lost.
There is something symbolic in the fact that during the night from 8th to 9th May, 1945, that is on the day the free Europe celebrated victory over Germany, in the forest near Grajewo, Jan Tabortowski "Bruzda" lead his unit of the AKO (pl. Armia Krajowa Obywatelska - The Citizens' Home Army) soldiers, to free prisoners from the county office of the PUBP and KP MO in Grajewo. Symbolic is also fate of the main participants of this operation: Major Jan Tabortowski "Bruzda" died 9 years later, on August 23, 1954 during operation against the MO office in Przytuly. The 2nd Lieutenant Stanislaw Marchewka "Ryba", who commanded a group that stormed the building of the PUBP in Grajewo, will die 12 years later.
In May 1945, on the Polish soil, where allegedly the Allied "victory" took place, the anticommunist insurrection was in full swing.
- During the night of 30 April, and 1st May, an NSZ (pl. Narodowe Sily Zbrojne - National Armed Forces) unit under command of Roman Dziemieszkiewicz, nom de guerre "Pogoda", destroyed the PUBP office in Krasnosielec, and freed 42 Home Army, and NSZ soldiers imprisoned by the Polish Secret Police.
- On May 1, in Annowka, unit lead by Mjr. Marian Bernaciak, nom de guerre "Orlik" destroyed 60-men strong tactical group of the UB from Radzyn. During this engagement, 12 UB-men died, 24 were captured, and the rest fled. The captured men were disarmed.
- On May 7, near the village Kurylowka, a 200-men unit of the NSZ fought an all day battle against the NKVD unit consisting of several hundred men. The NKVD retreated, leaving behind 56 dead. As a reprisal, the next day, on May 8, the NKVD burned over 200 farms. The inhabitants fled into nearby forests in order to save their lives. The NKVD shot 6 persons, while 2 others burned alive.
- On May 9, 100 prisoners escaped from the Bialystok prison.
- On 11 May, combined force of units under command of 2nd Lt. Teodor Smialowski "Szumny" from AKO, and 2nd Lt. Zbigniew Krynski "Rekin" from the NSZ, captured barracks of the 4th Squadron, 11 Regiment of KBW ((pl. Korpus Bezpieczenstwa Wewnetrznego - Internal Security Corps - Polish communist) in Siemiatycze. The partisans captured 80 KBW soldiers, who were disarmed, and stripped of uniforms.
- On 11 May, near the village of Wyrzyki, an AKO unit under command of 2nd Lt. Stanislaw Marchewka "Ryba", destroyed tactical unit of the UB, killing 16 bezpieka men, and wounding several others.
- On May 17, near the village Bodaki, a 50-men unit of NSZ under command of Lt. Zbigniew Zalewski "Drzymala" was attacked by a tactical group of the NKVD. Durin the battle with an overwhelming NKVD forces that ensued , 20 partisans died. The wounded partisans were finished off by the NKVD.
- During the night of 18th, and 20th May, an 80-men strong AKO unit commanded by an NN "Zbych" (pol. acronym NN - Unknown And Unidentified) captured the city of Ostroleka.
- During the night of 20th and 21st May, a unit led by Lt. Eugeniusz Wasilewski "Wichura" destroyed an NKVD concentration camp in Rembertowo. During this operation, several hundred prisoners were able to escape. The NKVD organized a massive operation to recapture the escapees. From within those recaptured, the NKVD murdered around 100 individuals.
- On 21 May, a unit lead by 2nd Lt. Stanislaw Bogdanowicz "Tom", destroyed the communist jail in Biala Podlaska, and freed over dozen of prisoners.
- On 24 May, nearly 200 partisans from the Major Marian Bernaciak "Orlik" unit fought an all-day-long battle against combined tactical units of the UB and NKVD. During the battle, the communists employed armored personnel vehicles. The battle ended in defeat for the communists. At least 64 NKVD personnel, and 10 bezpieka men died, while the partisans lost 8 men.
- On 28 May, the combined forces of the 1st Squadron of the V Wilno Brigade of the Home Army under command of Lt. Zygmunt Blazejewicz "Zygmunt", and the unit under command of Lt. Wladyslaw Lukasiuk "Mlot" were encircled by the tactical group of the NKVD and KBW in the area of Majdan-Topily in the Bialowieza Forests (pol. Puszcza Bialowieska). After a battle that span several hours, the partisans were able to pierce through the communist forces. During the course of the battle, 15 NKVD personnel died, and 16 were wounded. The partisans lost one man.
- On May 28, near the city of Kotki (Busko-Zdroj county) an NSZ unit under command of Stanislaw Sikorski "Jeremy" engaged a joint tactical group consisting of NKVD and UB personnel. The communists retreated from the battlefield. For this victory, the partisans paid with a life of their commanding officer, and deaths of several underground soldiers.
The last Polish National Insurrection ended in defeat, because it was doomed right from the outset. The Free World deserted Poland, while the leaders of Western Democracies, as if they were Pontius Pilate washed their hands off. Poland was handed over to the Soviet Union, which through its communist agents orchestrated fraudulent elections, created a fraud of a nation, created a quasi-Polish army in which all leadership positions were held by "imported" Poles, or the Soviet agents, such as the NKVD agent Artur Lyzwinski vel. Michal Zymierski nominated by Stalin to be the Marshal of Poland. Arthur Bliss Lane, the United States Ambassador to Poland, and the author of "I saw Poland betrayed" (pol. "Widzialem polske zdradzona"), reported:
"860C.00/2-1946:Telegram / TOP SECRET / US URGENT / Warsaw, February 19, 1946-noon/ Received 2:36 p.m. / The [United States] Ambassador in Poland [Arthur Bliss] (Lane) to the Secretary of State/
206. At the request of Mikolajczyk, Keith called upon him afternoon February 17th. Following summarizes Mikolajczyk's remarks: Subsequent to the Secretary's statement regarding political murders [committed by the communist security apparatus], Mikolajczyk was asked by some leading [communist Polish] Government officials to issue statement denying participation of Security Police. When he refused to do so, he was asked if he were protecting American and British interests or those of Poland. He replied, 'I am protecting the Polish peasants whom the Security Police are murdering. When you stop that there will be no more talking about it.' He said that previously when Bevin had made his statement in Commons on these murders and Rzymkowski replied, some of high officials here hoped split could be developed between British and Americans. After Secretary's statement, they saw it was not possible and in consequence, publicity had been avoided and no statement in reply had thus far appeared. He then stated that about 2 weeks ago (under instructions from Soviets) leading members of [Polish communist] Government adopted policy aimed at creating serious internal situation. Government hoped through arrests and other aggressive action to induce violent counteraction by elements opposed to Government. Resulting civil disorder would provide pretext for Russians to come further into Poland to suppress trouble. Plan was initiated by activities in Bialystok area (see Embtel 200, February 16, 2 p.m.) in which he stated he knew that Government was intending to use one Polish Army division, one security police division and one Russian division".
On April 1, 1946, Arthur Bliss Lane writes further:
"860C.00/4-146: Telegram / TOP SECRET / Warsaw, April 1, 1946 - 1 p.m./ Received 8 p.m./ The [United States] Ambassador in Poland (Lane) to the Secretary of State/
Gomulka and Mikolajczyk were only Polish officials present Mikolajczyk remained to talk with me alone. He said he was in most serious position of his life [Mikolajczyk feared for his life] and he showed considerable nervousness, quiet contrary to his usual phlegmatic calm, speaking in a whisper and refusing to be seated altho talk lasted over half an hour. [...] 1. Summary Peoples Courts which are being established through out country are 'putting away' for period of 2 years all persons of political prominence or influence on whom they can lay teir hands on alleged ground that they are suspected of having violated economic regulations but really because of affiliations with PSL or AK underground. 2. [communist] Citizens Militia is being greatly increased. As members thereof are furnished with arms candidates are very carefully screened to make certain that political background is satisfactory to [the Polish communist] Govt".
The men and women of the Polish democratic underground were unaware to what extent they were betrayed. If for no other reasons, but for the reasons of pragmatism, and of moral responsibility alone, they believed that the West will understand that Communism is not only an enemy of Poland, and other nations conquered by the believers of this murderous ideology, but it is also an enemy of the Free World. But, it wasn't to be. During the decades that followed, the red imperialism swallowed its next victims, and began to threaten the existence of the Free World. But before it rusted away, and Poland regained its sovereignty, it cost the world millions of unnecessary victims. Poland was a vanguard in the fight against two types of totalitarianism: the German national socialism, and its murderous ideology of race superiority, and its communist counterpart, with its ideology of class warfare. The goal of the communists terror was to eliminate any and all forms of resistance. The United States Ambassador to Poland, Arthur Bliss Lane, cited above, dismayed by the betrayal of Poland "resigned his post (on February 24, 1947) and wrote the book which detailed what he considered to be the failure of the United States and Britain to keep their promise that the Poles would have a free election after the war. In that book he described what he considered betrayal of Poland by the Western Allies, hence the title, ' I Saw Poland Betrayed'. According to Lane, the U.S. and Britain at the Tehran Conference agreed to dismemberment of the eastern part of Poland. He considered it a breach of the United States Constitution, since Roosevelt never reported his decision to the Senate. The Yalta Conference was the death blow to Poland's hopes for independence and for a democratic form of government, said Lane." (Source: Wiki)
Photo above
: July 5, 1953, near village of Niedzialki in the Mlawa County. Dead soldiers from the
PAS
(pol. Pogotowie Akcji Specjalnej - Special Emergency Executive - Polish Patriot: military)
unit of
Narodowe Sily Zbrojne
under command of Lt.
Waclaw Grabowski
, nom de guerre "
Puszczyk
" (second from right) killed by 1,300 men tactical group of KBW
(pol. Korpus Bezpieczenstwa Wewnetrznego - Internal Security Corps - Polish Communist: secret police)
, and UB (pol. Urzad Bezpieczenstwa - Polish Communist: secret police). Photo taken by the Polish Secret Police, the UB.
This Historical Brief is continued on our National Armed Forces Website.