The last battle of the 5th Wilno (Vilnius) Brigade. Conversation with Janina Wasiłojć-Smoleńska, nom de guerre "Jachna". (Pol. Ostatnia walka 5. Brygady... rozmowa z Janiną Wasiłojć-Smoleńską ps. "Jachna")
Part 1 | Part 2
"[...] I am honored to have been part of this unit. My peers were all willing to give their lives for our country. When I was still going to school, we were asked: "Who would you like to be when you grow up?" One of the girls wrote: 'I would like to get married, have twelve sons, and would like them all give their lives for our country'."
When I met Janina Wasilojc for the first time in May 2007, I saw a petite, good-natured woman who was full of life. Had it undoubtedly not been for my incomplete and superficial knowledge of her past, that is the past of somebody who since 1942 was involved in the resistance, one would have never guessed that she had lived through being disarmed, witnessed, and survived an execution 80 soldiers under command of Antoni Burzynski, nom de guerre "Kmicic" from the first larger partisan unit in the Wilno area by the Soviet partisans.
After that, she fought in the ranks of the 5th Wilno Brigade, made up of the surviving members from the "Kmicic" unit, lead by Major Zygmunt Szendzielarz, nom de guerre "Lupaszka". She was active in this unit until the period of operations in the Pomorze region, that is, until November 1946 where she served as a medic in the squadron commanded by Second Lieutenant Leon Smolenski, nom de guerre "Zeus" during their skirmishes with the communist regime. She participated in the last major battle of the 5th Brigade with the communist forces in Budy near Brusy in the Pomorze area. For these activities she was sentenced to death. Her sentence was later changed to 15 years in prison. She was released only in 1956. From the moment she left the prison walls, and until her retirement, she educated young and old as a teacher. She says it while smiling, that this was her "genetic makeup". She thought at all levels of teaching. While studying, she worked as an elementary school teacher, and later retired as a professor at the University of Szczecin.

She is among two people (the other one is Mr. Henryk Sobolewski, nom de guerre "Sobol", soldier in the 4th and 5th Wilno Brigade), who vividly remember these times, and who during special occasions sing by now forgotten songs ("zurawiejki") of the 5th Wilno Brigade of Home Army. This year Janina was decorated by [the late] President of the Republic of Poland Lech Kaczynski with Krzyz Komandorski Orderu Odrodzenia Polski [eng. The Commander's Cross].

When we met for the first time, I couldn't imagine that our meetings in 2007 and 2008 would bore fruit of this interview - an interview that I have the pleasure to present to you.

Above: Janina Wasiłojć (Smoleńska) with her parents in the Wilno area in 1928.
Let's start in the beginning. Where would one find your birthplace?
- I was born in 1926 on a "folwerk" [magnate farm worked mainly by large groups of laborers]   Tarkowszczyzna, in the Swieciansk county, in the Wilno region [presently in Lithuania]. I didn't have any siblings - I was the only child. My parents left Tarkowszczyzna shortly after my birth. We would live subsequently in Komaje, Duksztachy, and when the war erupted, in Swieciany.
Did you spend your entire childhood there?
- No. When the war erupted I was 13-years old, and this is where for some time I was already living in Swieciany. I went to the Józef Pilsudski gymansium [high school] there. My parents were both teachers and they worked there. The same gymnasium was attended, among others, by Lidia Lwów, later nom de guerre "Lala", and Zdzislaw Badocha, known later under the nom de guerre "Zelazny".
I did know that you attended school with "Zelazny", but I didn't know that Lidia also went there?
- Yes. But, I was only starting to take classes there while she was already graduating. I remembered her, because we looked up to those older girls, and respected them. After all, I went to school two years ahead. She was already a young woman then, and I was around 11-years old.
Did the two of you keep in touch?
- I would meet "Lala" during the occupation when she was living in Kobylnik and I was living in Miadziol. We were both taking teachers courses together. She was already working as a teacher. It was in 1942. Of course, later during the Nazi and Soviet occupation we were in constant contact.
So, you shared many memories together?
- This was a type of relationship that partisans shared together, so our collective memories are more than about the period of our military activities.
During your years in high school, or maybe earlier, did you belong to the Girl Scouts, or other organizations for girls?
- Of course. At first I belonged to the "Zuchy" [young scouts], and then to the Harcerstwo [Polish Boys and Girls scouts organization]. Many pupils from the Józef Pilsudski gymnasium in Swieciany would later fight in the ranks of the 5th Wilno Brigade of the Home Army.

So, in some sense you had gone through somewhat a typical and exemplary path of your generation?

- [It was] a typical path - a path through which most of the young people had gone through then. We didn't realize this then, but during this entire period of time, we were given examples to follow - positive examples, like those of the 1863 insurgents and the Legionaries.

Above: The Józef Piłsudski memorial Gymnasium (high school) in Święciany. Many of the pupils from this high school would later fight in the ranks of the 5th Wilno Brigade of the Home Army.
[These examples] were given to us neither in some sort of forceful manner, nor would anyone say [to us directly] to love our country; it was spontaneous. I would also become familiar with these examples [to follow]. When the war erupted, we instinctively drew the red-and-white polish colors on pieces of paper, wrote "Jeszcze Polska nie zginela" [engl. Poland Has Not Yet  Perished] on them, and then would glue them on building walls and fences. No one instructed us that it was required of us to do it. Only much later, this activity would become the so called "mały sabotaż" [eng. small sabotage - a form of underground propaganda activity].
Were you all part of some sort of organization then?
- No. After all, it was only 1939. The Soviets came and the youth immediately began to conduct all sorts of spontaneous activities - with no organization, and no [formal military] oaths. It was completely innate. On November 11, one would go to visit graves of the insurgents, which was at that time illegal. The Russian became the primary language taught at the gymnasium, and we began to rebel. Some of us where thrown out of school for that. In 1941 a [secret] Polish school began to operate, and this is where the "survivors" [of this rebellion who were thrown out from the gymnasium] went. We were warned that if we don't stop rebelling the school would be closed. One day, on May 1st [which was a Communist holiday, we were threatened with expulsion] and were forced to participate in a [Communist] parade. Our teacher - I don't know what got to his head. He came up with an idea that we should carry [Joseph] Stalin's portrait. He pleaded with me several times to carry it, but I stubbornly refused. Then he ordered me to go and see the principal. At that time one of my classmates said: "I'll carry it". He did realize that it would have been our parents and our teachers who would be paying for the consequences of my refusal. I knew that it was a great sacrifice on his part. I wanted to thank him for doing this after the parade was over, but he scolded me by saying - "Get lost!". I thought that I was going to burn with shame!
What did the life look like then?
-There were continuous forced transports to the Siberia, and everyone had their belongings packed to be ready at each and every moment. The Soviets would come mostly at night, would order people to leave the premises. So, it was prudent to be ready at all times. In 1941, my father travelled to see his parents in Podgrodzie, and later my mother and I joined him there. This is where we were when the Soviet-German war began.
After a short Soviet occupation, the Latvian occupation began..?
- The Russians were in Swieciany little longer. Only later did the Latvians come and annexed these territories into their country. The access to the food supplies improved then. The lines for food in front of the stores disappeared.
What was your, young people's relationship with the Latvians, the new occupiers?
- There were very few Latvians who lived there. I didn't have much contact with them. We knew that they cooperated with the Germans, but I had nothing to do with them. Only after our departure from Podbrodzie, my father, who was a known social and educational activist, was arrested by the Latvians along with several other individuals. Several days later he was given the death sentence. At this time the half of my Grandparent's property was taken over by an older German colonel. By happenstance, he found out about our predicament, intervened, and was able to save my father's life. When Dad returned, the colonel was no longer here. He was sent to the front, and so he [my father] couldn't even thank him for saving his life. There were many such paradoxes that would take place. Later, at the end of 1941, we escaped to the area administered by the Byelorussians, because the Latvians really wanted to have their way with my dad. In the end, we found ourselves in a small city of Miadziol near the Narocz lake, that I mentioned earlier. My father got a job as a secretary in the school inspectorate. There were many escapees and youth there. There, the conspiratorial activities began pretty quickly.
Above: Summer 1946, gamekeeper's cottage in Kosowa Niwa, Bory Tucholskie. Soldiers from the 3rd Squadron, 5th Wilno Brigade. Standing from left: Leon Smoleński "Zeus", Platoon Leader / Sergeant NN "Morski", Platoon Leader Władysław Wasilewski "Bej", Edward Zobczyński "Sikora", Jan Majkowski "Atlantyk", NN "Szczygieł", NN "Leszek", NN "Zygmunt", NN "Zbyszek", Janina Wasiłojciówna (Smoleńska) "Jachna", Corporal Władysław Heliński "Mały", Zdzisław Kręciejewski "Brzoza", NN "Lot", NN "Kempf", Bolesław Pałubicki "Zawisza", Stanisław Szybut "Picuś".
Did you join the underground there?
- Everyone had to work then in order not to be sent to forced labor in Germany.
In 1942 you were only sixteen years old?
- It didn't make any difference how old one was to have any bearing on being sent [to forced labor]. I got a job working at a place that was an equivalent of the [Polish] starostwo [engl. municipal office]. My responsibility was to write the personal details on a blank Kennkarte [Nazi identity card called], and then I had to go to the office of the director who was, of course, German. He would give me a seal, I would stamp the document with it, and he would sign it. I came up with a way of procuring these identity papers that were blank and stamped with a seal. Of course, they would find their way into the [resistance] organization. Even though, I took my oath many months later, it is exactly then, when my collaboration with the underground began. My commanding officer then was Antoni Zwieruho, nom de guerre "Koliber".
How did you end up in the partisan unit?
- It was exactly the "Koliber" who having contact with Lt. Antoni Burzynski "Kmicic", in March 1943 established the first partisan unit in this area. In June 1943 he created the "Miadzioly Conspiracy" and took this entire group of over twenty people to the forests. My parents also joined this unit. I remember meeting the first partisan there. "Kmicic" sent a horse patrol for us, and it is then that after several years I saw [men] in Polish uniforms. This picture forever remained in my memory. The patrol consisted of, among others, Henryk Mackiewicz, nom de guerre "Dzieciol" - the great uncle of the present First Lady of Poland (the late Maria Kaczynska, née Mackiewicz). After several days of acclimation in the forest, we began to build our base. It was located on hillock surrounded by swamps accessible only through a narrow dam. We built our shacks and it is there that I took my oath that I received from "Kmicic". In a short time there were nearly 300 partisans there.
How many women were in the unit, and what duties did they perform?
- There weren't that many women there, probably seven. We would cook food and would perform support work. We weren't taken take part in any operations then. But, we were sent to stand guard, i.e. we would be sent to the forest and pretend to gather mushrooms [and do the reconnaissance]. The base also had a makeshift hospital for the sick and wounded.
How were you viewing it [your involvement with the underground]? Was it an adventure, [did you feel that it was your] responsibility ?

- I felt honored to be part of this unit. At this age, everyone wanted to give their life for their country. Earlier, when I was still going to school, we were asked a question: "Who would you like to be when you grow up? One of the girls wrote: "I would like to get married, have twelve sons and have them all die [serve] their country".

The Soviet [partisans'] unit was stationed nearby?

- It was about 3 kilometers from us. This unit was commanded by Col. Fyodor Markov. He was educated in Poland as a teacher, was in the reserve officers' school, and worked as a teacher. Before the war he lived in Swieciany. For a certain period of time our relations were cordial. However, on August 25, 1943 under the pretext of coordinating combined operation [of our units], Markov invited our General-Staff to a meeting. As it later became apparent, they were arrested there.

Above: Soldiers from the squadron commanded by "Zeus. From left (sitting) : NN "Zygmunt", Władysław Wasilewski "Bej", Janina Wasiłojciówna (Smoleńska) "Jachna", NN "Zbyszek", (standing): NN "Kempf", Platoon Leader / Sergeant NN "Morski", NN, Second Lieutenant Leon Smoleński "Zeus", Corporal Władysław Heliński "Mały".
Only the Chief of Staff nom de guerre "Boryna" returned accompanied by several Soviet soldiers. He ordered us to gather without weapons. I noticed a tight cordon of Soviet partisans behind the trees. They took our weapons from our shacks and arrested our entire unit. After that their "Politruks" [political officers] arrived and began interrogations with the help of prepared earlier lists [of Polish partisans]. Then, they stood some of our partisans on one side, and the others on the other. This group consisted of some 60 people. Almost everyone was guarded by an individual sentry. They were lead to the Soviet base where they were murdered. After some time, Markov brought with him our new commander. It was Wincenty Mroczkowski, nom de guerre "Zapora". Before the war he [Mroczkowski] was a junior officer in the Polish Army. He gave us a speech that more or less said: - Boys! What do we want? We want to "be"! And in order to "be" one has to have weapons! And once we have the weapons, we'll see what happens next! I remembered this speech because it was certain what it meant. The boys got their weapons then, but they were broken and unusable. This unit was given the name "The Bartosz Glowacki Unit". When the patrols were sent into the filed to get provisions, they didn't return. They would join up with the "Lupaszka's" units who only by a happenstance survived the Soviet betrayal and then took command of the Brigade. He would gather them all, and this is how the 5th Brigade was established.
But, the most of those who were left alive still stayed there, at the camp?
- [Yes] for a while, because after sometime "Zapora" left with a sizable patrol to look for those who didn't return. Naturally, this patrol didn't return either. We were assigned the new "Politruk" [political officer], a Polish Jew [named] Marecki. Then, we were disarmed for the second time. They didn't try to create a new unit out of us, but rather wanted to allocate us to various Soviet units. The night before we were to be sent to the Soviet base, we escaped with the help of Madam Lusia, the wife of our "Politruk" [Marecki]. She gave us a pass with her husband's seal, and it is because of her help that the seven of us escaped. I also got a handgun from her.
What did your further escape look like?
- My parents and I were walking to the land property ["folwark"] Buraki which was owned by my parent's friends - Mr. and Mrs. Poniatowski. As it became apparent, we walked right into the middle of the German pacification operation in this area. We were already in an open field and we couldn't back off. So, we continued to walk. When we came closer, we noticed that next to some hole [dug in the ground] stood the Germans and a Latvian policemen. We were stopped by the Latvians who led us to the village where they frisked us. When they found Polish legionaries eagle on me, the Latvian policemen said that I am a "Polish chauvinist". I managed to hide my gun in my belongings through which they already searched. My father was taken somewhere by car, and my mother and I were lead on foot to the police station in a nearby small city of Komaje. As it turned out, my father was already there. After an interrogation that took place the following day, and mostly because of the Latvian translator who suddenly became very friendly [we suspect that it was because of persuasion of people we knew] we were "assigned" to forced labor in German rather than to the barrel of a gun. After that we were transported to the place called Lyntupy where a concentration point was created for all those apprehended during this and many other pacifications in the area. Rather quickly, the members of the local AK [Armia Krajowa - Eng, Home Army] cell found out about where we were. A required amount was paid to appropriate persons and my parents and I were released from the assembly point.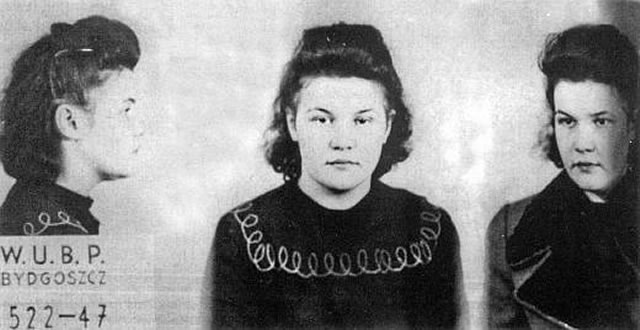 Above: Janina Wasiłojciów (Smoleńska) "Jachna" - photo taken by Wojewódzki Urząd Bezpieczeństwa Publicznego [eng. Voivodeship Office for Public Security - WUBP - Polish secret police] in Bydgoszcz, after her arrest in 1947.
You returned to the unit commanded by Major (then Cavalry Captain - Rotmistrz - Zygmunt Szendzielarz "Lupaszka"?
We had neither money nor roof over our heads. We were given shelter by the family of one of my friends. My parents stayed there, and I initiated contact with [the resistance] and in some village near Wilja [river] I joined "Lupaszka" who was rebuilding the unit. At first I was under command of "Maks" (Sergeant Antoni Rymsza), and then "Zagonczyka"(Second Lieutenant Feliks Selmanowicz). When later the 4th Brigade "Narocz" was created in April 1944, I transferred to it with "Zagonczyk". There, I met Henryk Sobolewski, nom de guerre "Sobol".
Was the 4th Brigade disarmed by the Soviets?
- I took part in combat near Wilno having as its goal its liberation [from the Nazis] as a part of the Operation "Ostra Brama". Afterwards, we were disarmed by the NKVD and at first placed in the Miedniki camp, and thereafter I was transported to the Lukiszki prison in Wilno. I was released in October 1944.
How did you arrive in the Lublin area of Poland?
- I was transported with other [individuals being] "repatriated" as a "transport medic". At the end of 1945 along with my parents I took residence in Sopot. It is there that I met with my commanding officer "Zagonczyki". I became part of his diversion group that was part of the "sleeping through the Winter" [(laying low)] 5th Brigade of Major "Lupaszka". Our orders were to distribute leaflets and to procure weapons.
When did you return to the "forest"?
- In May 1946, "Zagonczyk" sent me away from the squadron. I was very surprised - I liked this "job", and yet I got an order to join the unit and to return into the forest. I was studying medicine then at the Akademia Medyczna [Medical School] in Gdansk and had to interrupt my studies and reach the concentration point. It was located somewhere in the vicinity of Sztum or Malbork in some barn in the middle of a field. At once, the major assigned me to the squad of "Zeus" (Second Lieutenant Leon Smolenski). And it is how I found myself in the "forest" again. Today, I think that "Zagonczyk" sent me away to the unit because he suspected impending arrests, and wanted to save me. As it ultimately became apparent, he was right.
I would like to set aside the activities of the 5th Brigade during the summer [months] because this period is relatively well documented by various authors in various publications. I suggest that we rather converse about the latter part, that is, the period of combat operations which took part during the fall of that year, that is, the subject of several ambiguities and controversies. Lets begin with the operation in Brusy. What took place there?
- Just like many others. Part of the unit took over [Communist People's] militia building and the rest went to the local Municipal Building and to the "grzybiarnia" [mushroom dehydration building] where two bags with moneys were commandeered. I went with the boys to the militia station that was located somewhere on the outskirts of this place.
Is it there that you gave that famous piano recital?

- No, it wasn't exactly a recital. When we entered, I noticed a piano next the wall. I sat by it and played couple of melodies. This event, which I described during interrogations, was "composed-into" my indictment by the prosecuting attorney with the description "... during the robbery, she accompanied [the gangsters] by playing the piano".

What was the result of this operation?

- We commandeered two bags with small denomination which was placed on a truck. We had to retreat as fast as possible away from Brusy. We were traveling via country road and got stuck in the sand; in addition, there was a [mechanical] problem with the vehicle. After that, we were forced to move on foot and draggged this money with us. Later, "Zeus" (Second Lieutenant Leon Smolenski) along with "Atlantyk" (Jan Majkowski) took both bags and hid them in the safe house somewhere in Zwierzyniec. At some point later, when the unit was already disbanded, this money was used as the allowance for the soldiers from the squadron.

Surely there was "some" money - after the last battle, the unit conducted several expatriation operations?

- Yes, but we would share this money with the squadron of "Leszek" (Lieutenant Olgierd Christa), and altogether, there were a lot of "guys" there. After all, each and everyone would receive certain amount [of money], I don't remember exactly how much, that was used in the event of separating from the unit, or other unforeseen events.

Photo: May 25, 1956. Janina Wasiłojć (Smoleńska) three days after her release from prison.